The WSIA Weekly, 3.25.16
---
WSIA adds new Regional Meeting to events calendar
Earlier this week, we added a new Regional Meeting in the Renton area to our Calendar of Events. The meeting, featuring networking time and a presentation by attorney Sarah Ewing and neuropsychologist Elizabeth Ziegler, will focus on neuropsychological evaluations in workers' compensation. It is taking place from 8:30 to 10:30 a.m. on April 13th at Valley Medical Center, with continuing education credits on application. Regional Meetings are free for WSIA members to attend, but require a RSVP. For more information, visit our website here.  
Labor & Industries hit with half a million dollar public records fine 
Yesterday, the Washington Supreme Court upheld a substantial fine against the Department of Labor & Industries stemming from a lawsuit by the Seattle Times for withholding public records related to an investigation of lead exposure at a Bellevue firearms shop and shooting range. The court authorized nearly $503,000 in fines for improper delay in the release of investigatory records. Depending on the account the Department must pay the fine from, it may be passed on to workers' comp premium payers. Read more about the decision here, or the decision itself here.        
 New draft treatment guideline on knee injuries opens for comment
Earlier this week, the Department of Labor & Industries opened a public comment period on its new draft guideline for the diagnosis and treatment of work-related knee conditions and surgeries. The proposed guideline can be read here, and public comments can be submitted by following the information here. Comments are due by 5:00 p.m. on Monday, April 11th, and will be considered at the next meeting of the Industrial Insurance Medical Advisory Committee (IIMAC) on April 28th in SeaTac.
Webinar on claims management of psych conditions up next week

The first of our claims management spring webinar series is up for broadcast next Thursday, March 31st at 10:00 a.m., featuring attorney Natalee Fillinger of Holmes Weddle Barcott presenting on new WAC changes for mental health conditions. Natalee's presentation is accredited for both WWCP and L&I continuing education units. Read more about it and register at this link.    
Workers' comp & safety in the news with story about Seattle tunnel project claims

Earlier this week, Seattle media was abuzz with news that the troubled Seattle waterfront tunnel project – of "Bertha" fame – racked up over $700,000 in workers' compensation claims costs last year due to a wide variety of injuries. Read more about it here.   
Thinking about exhibiting or sponsoring at the Annual?

We're just under six weeks out from our blockbuster Annual Conference, "Lights! Camera! Action!" and we're down to just a handful of exhibitor spaces left in the Davenport Grand's beautiful exhibitor hall. We're also adding conference sponsors almost daily. If you haven't reserved space yet, now's the time to secure a booth and, if interested in being a conference sponsor, getting maximum visibility. Several sponsorship packages include exhibitor or attendee registrations. Click for more info on exhibiting or sponsoring, and here for our recognition of our sponsors thus far.
---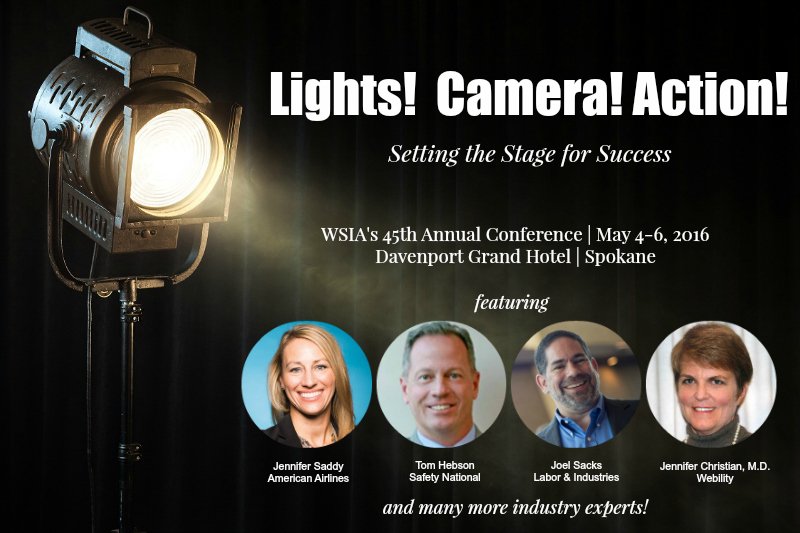 45th Annual Conference