Legislature wraps up challenging session with multiple new workers' comp laws
---
April 28, 2023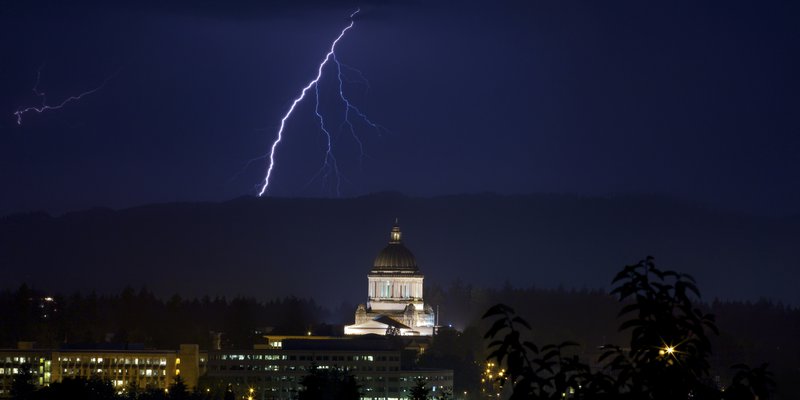 This year's 105-day legislative session gaveled to a close last Sunday evening, April 23rd, and while big ticket items dominated the headlines, the Legislature sent six new comp/safety bills to the Governor for signature, a few of which have now been signed into law, and most of which are significant in nature with long-lasting ramifications. More will be said about these new laws in the coming weeks and months as they are enacted and begin going into effect, but while the ink is still wet, here is a quick run-down of the action.

For the first time, insurance bad faith law is imported into workers' comp
The Legislature has sent ESHB 1521 to the Governor's desk, which creates a duty of good faith and fair dealing for certain self-insured employers and their third-party administrators. It is expected the Governor will sign it in the coming days.

As originally introduced, HB 1521 would have created a duty of good faith and fair dealing for all self-insured employers and TPAs, backed up by a vague definition, fairly unrestricted L&I rulemaking to further define, and steep penalties. The bill was most visibly pushed by the firefighters' union, as part of a fight with a small number of cities over presumption claims. With more progressive majorities in the House and Senate following last year's elections, the union was emboldened to seek this new legal cudgel to hammer self-insurers.

In its final, negotiated form, the bill:
Creates a duty of good faith and fair dealing for all self-insured "municipal" employers, self-insured private sector firefighter employers, and their third party administrators "related to all aspects" of Title 51.
"Municipal" SIE are broadly defined as counties, cities, towns, port districts, water-sewer districts, school districts, park districts, fire districts, public hospital districts, regional fire service authorities, ESDs, "or such other units of local government." The private firefighter definition is geared basically to pull in Boeing's firefighting unit and the private contractor that handles firefighting duties at the US Dept. of Energy Hanford nuclear site.
The duty is described as requiring "fair dealing and equal consideration for the worker's interests."
The duty is violated if a worker is coerced to accept less than the compensation due under the title, "or otherwise" if a covered employer fails to act in good faith and fair dealing on its obligations under the title.
The Department is given a rulemaking directive to define additional applications of the duty and define criteria for investigating claims and issuing violations.
Violations can result in a discretionary penalty of triple the current penalty for unreasonable delay or denial of benefits or rules violation, and a mandatory penalty of one to 52 weeks the state's average weekly wage at the time of violation, depending upon the severity of the violation.
Three violations in any three year period by the same employer would result in decertification from self-insurance, with the clarification that errors or delays that are minor or inadvertent are not violations for decertification purposes.
The bill makes clear that it is not intended to allow a private cause of action outside the workers' comp system.
The bill applies to all claims regardless of date of injury, and goes into effect July 1, 2024.
While not applicable to all self-insured employers, the bill will apply to most, if not all, public agency self-insured employers, and will require careful risk mitigation planning to avoid complaints and assessments, as well as urgent and careful engagement with L&I between now and next July as they undertake administrative rulemaking. This will also require ongoing vigilance on the part of the whole self-insured community, as many lawmakers during floor debate made it clear they are unhappy with the limitation to only public agencies and want to come back next session to attempt to apply this liability to all self-insured employers.

Legislature creates sixth new occupational disease presumption in five years
After more than a decade of relative stability in the area of occupational disease presumptions, the Legislature in 2018 embarked on a new course of averaging roughly one new or expanded presumption per year to favored employee groups, or groups with strong union representation on "the Hill." In those years, the Legislature expanded the existing first responder presumption for infections and cancers, created a new PTSD presumption for them, created a broad presumption for Hanford site workers, then under COVID-19 created new presumptions for health care workers and front-line workers. This year, under SB 5454, direct-care registered nurses who have been working in Washington at least 90 days have obtained a presumption of occupational disease for PTSD. According to L&I, 70 percent of these nurses are employed by a self-insured employer. The presumption may be rebutted by a preponderance of the evidence, and lasts after separation for three months for every year of service up to 5 years. This goes into effect January 1, 2024.

Workers obtain new right to make audio/video recordings of IMEs
Under HB 1068, the claimants' bar finally achieved its goal of overturning L&I's administrative rule barring recording of IMEs and allowing injured workers the right to make audio/video recordings of IMEs. The worker is required to give seven calendar days' notice of their intent to record, and L&I is supposed to adopt rules to define how the notification will take place. Workers are also given the right to a third party observer in the IME who is not their lawyer or attending provider or affiliated therewith. This will go into effect 90 days after the session adjourns, or July 23rd.

Psychologists will be able to act as AP on mental health-only claims
Under HB 1197, the various statutes referencing attending providers are given some housekeeping edits, and most notably, doctoral-level psychologists are added to the list of providers who may serve as AP on mental health-only claims. The law goes into effect July 1, 2025 and applies retroactively.

New SI pension reserve fund created
Under SB 5084, the Department is authorized to split out separate self-insurance and state fund pension reserve accounts, and also recapture interest on invested assets in the self-insured fund, impacting mostly the 2nd injury fund where interest on invested assets currently is swept into the state's general fund. This is largely an accounting convenience for the Department, which applies different discount rates to state fund and self-insured pensions. It shouldn't have any operational impact on self-insurers.

L&I gets authority to regulate industries for ergonomics safety exposures
Under SB 5271, the Legislature overturned 2003's citizen Initiative 841 barring L&I from creating rules on ergonomics under the Washington Industrial Safety & Health Act, and allows the Department to go into one industry per year based on industry code or risk class, where the rate of compensable musculoskeletal injury and disorder claims has been more than two times the overall state claims rate. The provisions regarding industry selection and industry codes/risk classes are somewhat complicated and worth a look in the linked bill language. This one goes into effect 90 days after the adjournment of session, or July 23rd.