State Senate Advances Workers' Comp Reform Measure
---
Feb. 16, 2017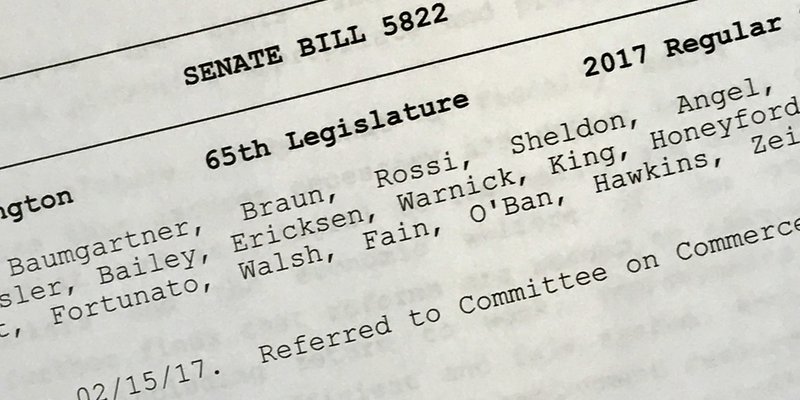 Friday, February 17th marks the deadline in the Washington State Legislature's current session for bills not related to state fiscal issues to advance from the legislative committee considering them.
Senate Bill 5822, the employer community workers' compensation reform proposal, cleared that initial hurdle last night when it was voted out of the Senate Commerce, Labor & Sports Committee on a 5-4 party-line vote. 
SB 5822, supported by all the mainstream employer organizations, including WSIA, would improve the workers' comp system using information gleaned from a series of recent independent reviews and performance audits of the workers' compensation system. 
The proposal:
Conforms the state's general coverage of occupational disease claims to causation standards more typical in other workers' comp jurisdictions;
Makes the Claim Resolution Structured Settlement Agreement option more widely available to injured workers by removing the age limitation; and 
Authorizes greater claims management authority and responsibility for self-insured employers, as recommended over the years by the Joint Legislative Audit & Review Committee.
The measure also contains a provision addressing a decision of the Washington Supreme Court,
Tobin v. Labor & Industries
, which greatly diminished in many cases the lien that State Fund or self-insured employers can hold when workers' comp funds are recovered from an at-fault third party. 
In comments supporting the measure, committee chair Michael Baumgartner, R-Spokane, the measure's prime sponsor, tied the proposal to the broader issue of education funding confronting the Legislature this year due to the McCleary decision of the Washington Supreme Court:
With the critical need for education funding, we must expand our state's economy to meet our constitutional obligations, and I very much see this bill as part of the McCleary solution.
Baumgartner was joined in sponsoring the measure by 22 of his colleagues in the Senate's Majority Coalition Caucus, signalling the emphasis the caucus places on Labor & Industries reform as a component of the broader legislative discussion over budgeting, taxes, McCleary, and increased workplace regulations the Legislature is considering this session. 
The bill now goes to the Senate Rules Committee, where it would require an additional vote to become eligible for consideration on the floor of the Senate. To keep moving toward passage this session, SB 5822 must by passed by the Senate by March 8th, the next major cutoff deadline.