Performance audit of L&I claims management released
---
July 31, 2015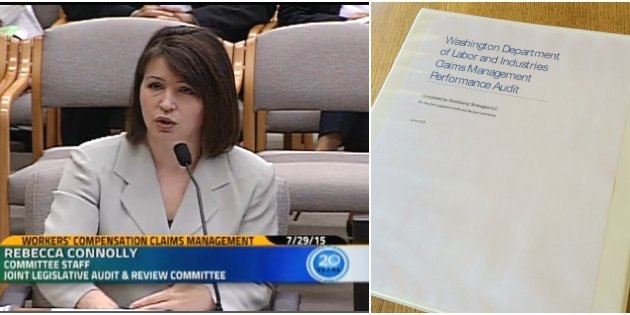 Four years in the making, an important new performance audit of claims management in Washington's workers' compensation system has been released and was formally presented to a committee of the Washington State Legislature this week.
When the Legislature enacted significant workers' compensation reforms in 2011, a component of that legislation called for a bipartisan body known as the Joint Legislative Audit and Review Committee (JLARC) to undertake a performance audit of claims management in Washington's system, with a particular emphasis on the State Fund but including self-insurance as possible.
The Preliminary Report
On Wednesday, JLARC auditors presented the preliminary report of the performance audit to the committee. Although the full performance audit spans three years of claims data and contains nearly 450 pages of detailed analysis and appendices, the auditors arrived at only three ultimate performance recommendations:
  To improve return to work outcomes, L&I should institute standards for early phone contact, claim management planning, and clear documentation in claim management, including making phone contact with time loss claimants within 1-2 days of receiving the claim.
To further improve return to work outcomes, L&I should expand its pilot programs and enhance its claims management support systems as standard operating practices that focus on return to work.
To improve timeliness of decision-making on claims, the Legislature should allow self-insured employers to issue formal orders when accepting claims, orders which would be reviewed in the self-insurance audit process.
While the first two recommendations direct L&I to improve its internal processes, only the third is a recommendation to the Legislature, requiring a change in law to make happen.
The auditor's recommendation with respect to self-insurance was based on the fact that when a self-insured employer decides to allow a claim, it adds 30-45 days to the claim management process for the employer to then request formal L&I approval, for no apparent good reason since the claim is being allowed.
Although it's premature to determine whether L&I or the self-insured community (or both) would bring such a proposal forward to the Legislature, this recommendation will no doubt be discussed in the 2016 legislative session.
Click the image below for video of the JLARC hearing on the workers' compensation performance audit.
The 2015 performance audit differs from JLARC's more comprehensive 1998 performance audit of the entire workers' compensation system. The prior report ended with a comparative cornucopia of recommendations to improve the system, several of which were adopted (e.g., improvements to vocational rehabilitation, better actuarial analyses) and several of which fueled pitched battles between business and labor for half a generation (e.g., adopt a State Fund dividend plan, allow employer reporting of claims).
But while the full 2015 audit report is a treasure trove of data and information about Washington's workers' compensation system generally, and claims management specifically, the report's conclusions and limited recommendations seem carefully crafted to avoid igniting the slightest hint of controversy amongst the traditional labor and employer stakeholders of workers' compensation.
For example, the report does acknowledge systemic issues that employer stakeholders have noted in the past to contend for improvements – that injured workers in Washington are off work on average 40 weeks, while the national average is half that; or that out of every 100,000 L&I claims, 43.7 result in a pension, whereas the nationwide average is 2.3 claims per 100,000.
The report notes the long average duration of Washington claims appears related to statutory and claims management practices (and not the nature of injuries or demographics) – factors such as the system's uniquely fuzzy "employability" standard, L&I's statutory list of return-to-work priorities, and the lack of statutory time limits on indemnity benefits, common in other states.
Yet the recommendations don't address these factors directly, instead settling for much more modest and non-controversial ideas like making prompt telephone contact and enhancing the professionalism and culture of the Department's return to work services — ironically, both recommendations of the earlier 1998 report that didn't make it into practice over the years.
Ultimate Reception
What will be the ultimate reception and fate of this 2015 performance audit? Will it form the basis of internal improvements and some degree of legislative activity around workers' compensation in coming sessions, or will it be consigned to the dusty depths of beltway bookshelves?
Time will tell. It certainly was an expensive and labor-intensive project, ordered up in the midst of tremendous legislative interest in the workers' compensation system, so it would be a shame to never hear about it again. And it was clear from the reception of JLARC committee members this week that workers' comp has not lost its ability to engage attention and questions from lawmakers of all philosophical stripes.
A final version of this report is due in September, 2015, which will include L&I's response to the auditor's recommendations.