WSIA fundraiser nets nearly $70,000 for Kids' Chance of Washington
---
Nov. 15, 2016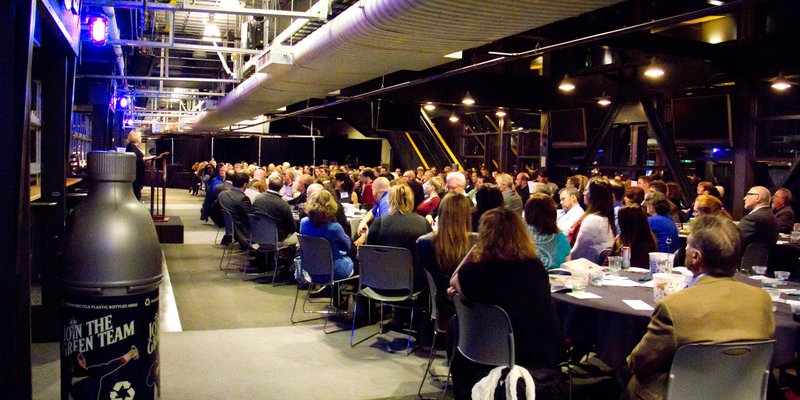 Last Thursday, November 10th, nearly 200 WSIA members, friends, and colleagues from all corners of the workers' compensation world in Washington came together at Safeco Field for a special fundraiser benefiting Kids' Chance of Washington.
With last minute contributions still being counted, the fundraiser could exceed $70,000 in total contributions to our state's Kids' Chance chapter, which provides educational scholarships to dependents whose parent or spouse has suffered a workplace fatality or permanent disability.
Joining WSIA as Platinum Sponsors for the event were Costco, Alaska Airlines, Eberle Vivian, Peoples Injury Network Northwest, Johnson Arledge Strategies, Dane Street, Wallace Klor Mann Capener & Bishop, and Strategic Consulting Services. Eastside Vocational Services, Examworks, Flynn Law Group, and Penser North America each contributed Silver Sponsorships. A whos-who of business and labor leaders served as table sponsors for the event.  
The evening started out with mingling, networking, and a silent auction, bringing together people from all walks of the workers' comp life -- employers, business and labor lobbyists, claimant and defense lawyers, labor union officials, health care providers, vocational counselors, and more. 
As the program got underway, Kids' Chance President Cody Arledge of Johnson Arledge Strategies gave an overview of Kids' Chance of Washington, its mission, and its staff and volunteer leadership. Joel Sacks, Director of the Washington State Department of Labor & Industries next spoke of the importance of Kids' Chance to the Washington workers' compensation system, and efforts the Department has undertaken to spread the word about the scholarship program.   
The heart of the program, though, involved presentations by current and past Kids' Chance Scholarship recipients: Kristine Cooper, Sofia Sanchez, and Chris Westermann. 
Kristine spoke of the accident to her father that impacted her family and the importance of Kids' Chance financial assistance as she completed her four year degree at Seattle Pacific University, where she graduated this year. She's currently working with young children and pursing her interests in art and painting. 
Sofia, a student at Cornish College of the Arts in Seattle, spoke passionately of the impact Kids' Chance has had on her academic career, emphasizing her commitment to artistic expression and political activism.
Finally, Chris spoke of the major impact Kids' Chance financial support had on his ability to finish his schooling in precision machining and manufacturing at Perry Technical Institute in Yakima, when a tumultuous time in his life threatened his ability to finish his course of study. Chris is now applying his skills helping to build a sawmill facility in his community. 
The average community college scholarship awarded by Kids' Chance of Washington is $2,500, and the average four-year college award is $6,000, according to WSIA officer and Kids' Chance Board Member Jan Donley of J Donley Associates who, along with Linda LaMonte of Dane Street, led a volunteer event committee to put the fundraiser together.
This was WSIA's third Kids' Chance Fundraiser in the last four years. The prior two fundraisers together raised over $100,000 for the organization.
For more information on Kids' Chance of Washington, check out their website at www.kidschancewa.com.