WSIA's 2020 Legislative Wrap-Up
---
March 13, 2020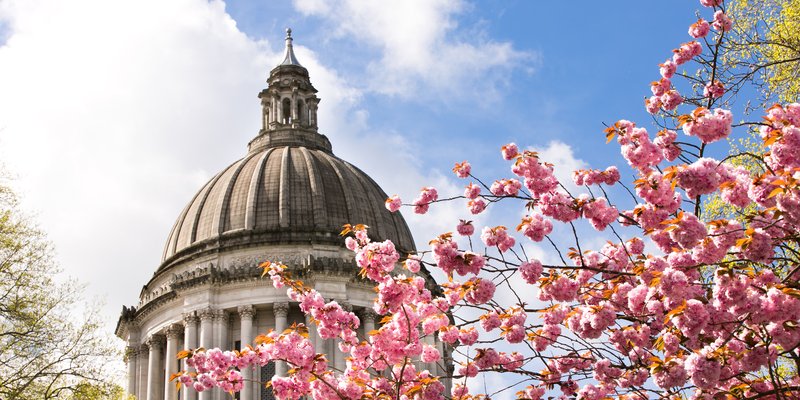 The 2020 session of the Washington State Legislature gaveled to a close last night about 8:15 p.m. after a short, 60-day session marked at the end by the unprecedented and rapidly expanding state response to the outbreak of novel coronavirus/COVID-19 disease in our area.
In workers' compensation policy, this was a significant legislative session. With large and expanded democratic majorities in the House and Senate after the 2018 midterm elections, labor unions and claimants' lawyers decided to flex their political muscle by advancing aggressive regulatory and penalty proposals that, with some narrowing amendments, will become law this year. These new changes in the law that will reverberate in agency rulemaking for a few years.
Here's a run-down of what happened in issues of concern to the workers' compensation and safety community:
What Passed
1. IMEs. Senate Bill 6440 (Stanford, D-Bothell) was introduced as a massive new regulatory and restriction scheme for the conduct of Independent Medical Examinations for both the Department and self-insured employers. From a limitation on the number and purpose of IMEs to Department scheduling of self-insured exams, to restrictions on the location of exams, to provider documentation and reporting to the taping and recording of exams, the bill as introduced was far reaching.
After a concerted campaign against these restrictions by self-insured employers, State Fund employers, panel companies, and others, the bill was amended slightly in the House and then amended again in the Senate to more or less its final form. As passed the Legislature, the bill:
 Limits the purpose of an IME to decisions regarding claim allowance or re-opening, resolution of a new medical issue as defined, an appeal, or case progress, or evaluation of a permanent disability or work restriction;
Requires the IME be in a place reasonably convenient to the worker or use telemedicine, to be further hashed out in rules particularly where there is no specialist in the community;
Prohibits no-show fees with five days' notice the worker is not attending;
Creates a working group of legislators and business/labor stakeholders to convene in the summer of 2020 and discuss reducing the overall number of IMEs, improve access to medical records, consider how IMEs are scheduled, the selection of IME examiners, and what additional workers' rights in the process are required.
Assuming the bill is signed into law by Governor Inslee (and there is no reason to anticipate it will not), the substantive changes go into effect January 1, 2021.
2. Penalties and TPA licensure, claims handler certification. House Bill 2409 (Kilduff, D-University Place) was introduced with three far-reaching aims: A massive increase in penalties against employers and medical providers in chapter 51.48 RCW, along with annual inflationary increases in minimum penalties; the creation of a new duty of good faith and fair dealing by all employers and their representatives toward all aspects of administering Title 51, along with severe penalties for violation; and a bill requiring the licensure of all self-insured claims administrators.
The originally proposed penalty against self-insurers for benefit delay was especially punitive. It would have increased from the current $500 or 25 percent of benefits due to $1,700 or 25 percent, per occurrence. In other words, even small mistakes in time loss calculation run across a lengthy claim would result not only in liability for the small underpayment, but tens of thousands of dollars in penalty exposure. 
WSIA and allied employer groups opposed this bill vigorously throughout the session. It passed the House by replacing the "good faith and fair dealing" obligation with an employer/employer representative's "responsibility of fair conduct" in claims decisions, drawing from a similar law in the private insurance code. The self-insurance "per occurrence" penalty was modified to be an "up to" rather than a minimum, suggesting the Department would have discretion to impose a lower penalty. 
By the time the bill cleared the Senate Labor & Commerce Committee, it was even worse from our perspective as it retained the dollar penalty amounts but aimed the "fair conduct" violation squarely at self-insured employers and their representatives. Further, the claims handler licensure component was changed to require licensure of TPAs and certification of all claims handlers, according to rules to be adopted by the Department. 
After raising additional concerns with the Legislature and with an impressive grassroots effort from allied employer organizations against the proposal, a less aggressive version of the bill ended up passing the Legislature. It:
 Doubles, rather than triples, the paperwork penalties in RCW ch. 51.48 and allows waiver by the Department for first time or de minimis record-keeping violations;
Inflates the penalty dollar amounts every three years by average consumer price inflation, not annual wage inflation;
For the self-insurance penalty, increases the dollar amount "up to" $1,000 or 25% of the benefit delayed, and allows for either aggregate or per occurrence penalty depending upon the amount at issue and severity of the conduct and specifies this new penalty regime starts apply September 1, 2020; 
Removes the fair conduct provisions entirely; and
For self-insurers, requires TPA licensing and certification of all claims handlers, to be fleshed out further in rules by the Department. 
The TPA licensing and claims handler certification provisions are fairly puzzling in part because the Department just completed rulemaking on claims handler certification and those rules are going into effect in phases through July 1, 2021. For its part, this section of 2409 specifies that Department rules in effect as of March 2020 must be incorporated, and the section of law itself does not go into effect until July 1, 2021. 
What Failed This Year
1. 3-Day waiting period for time loss. Senate Bill 6552 (Stanford, D-Bothell) as proposed would have eliminated the three-day waiting period before a worker begins to receive time loss benefits. As amended in committee, the bill would have left the waiting period intact, but shortened the related retroactivity period from 14 days to seven days. In other words, under the amended proposal, once an injured worker was out on time loss for seven (rather than 14) days, the worker would pick up the three days of benefits sequestered during the waiting period. Billed by WSIA and others as a solution in search of a problem, the bill didn't advance to a floor vote in the Senate. 
2. Marijuana and hiring. House Bill 2740 (Kloba, D-Kirkland) would have disallowed employers, with certain exceptions from refusing to hire prospective employees because a pre-employment screen turned up positive for marijuana use. The bill raised safety concerns; it didn't advance to a floor vote in the House. 
 3. Mandatory WISHA training for construction workers. House Bill 2564 (Orwall, D-Kent), would have required all construction workers and supervisors to complete a mandatory workplace safety course. The bill provoked industry opposition and did not advance. 
4. Captive Insurance. For those self-insurers with captive insurance subsidiaries, legislation (Senate Bill 6331; Mullet, D-Issaquah) was debated all session, and came close to passing, that would allow the recognition of captives in Washington subject to a registration fee and two percent premium tax on all risk insured by the captive allocable to Washington state. The bill broke down at the end over the opposition of the Office of Insurance Commissioner, who has been enforcing against the captives of Washington-based companies. The OIC seeks to tax nationwide risk written by the captive, not just Washington-specific risk. The bill could not survive that impasse, but the OIC was directed to study the issue in the interim and suspend enforcement activities in the meantime. 
 5. Structured Settlements. Senate Bill 6272 (King, R-Yakima), would have followed the recent recommendations of the Upjohn Institute in its 2019 cumulative report on the Claim Resolution Structured Settlement Agreements program and expanded the availability of structured settlements to injured workers without regard to the current age limitation. It did not advance beyond the Senate committee. 
6. Self-Insurance allowance orders. Similarly, Senate Bill 6273 (King, R-Yakima), would have followed the 2015 recommendation of the Joint Legislative Audit & Review Committee to allow self-insured employers to issue their own formal allowance orders rather than request allowance from the Department. This issue continues to break down over worker advocates' belief that self-insurers will use allowance orders to improperly segregate conditions. Amendatory language was developed that would have allowed allowance orders without the possibility of segregation, but WSIA did not view this limitation as constructive and the bill was put down. 
If you have any questions or concerns about any of the measures that passed or were considered, please contact the WSIA office.