Better Communication, Better Outcomes: Let's Talk About It

DoubleTree Suites by Hilton Southcenter
16500 Southcenter Parkway
Seattle, Washington

8:00 a.m. to 4:30 p.m. (Registration and Breakfast at 7:30 a.m.)

Want smoother claims handling and better, faster outcomes for your injured workers? The data is clear – focus on improving communication from the beginning of the claim to the end, with all of the involved parties. At this conference, we'll take a multidisciplinary look at some challenging issues in workers' compensation communication. We'll hear from experts in medicine, psychology, claims management, return to work, and more on how best to tailor our communications and set the right tone for success.
Want to attend Winter East in Spokane? Click here for our companion conference taking place on January 23, 2020.
Friday, January 10 2020
8 a.m. — 9 a.m.
Panel Discussion: New Rules and Forms for Communicating Claims Decisions
Angela Zurek (Sedgwick)
Gennia Wellington-Cheatham (King County)
Kevin Kincade (Eberle Vivian)
9 a.m. — 9:30 a.m.
Washington Family Medical Leave Law Update
Jenny Haykin (Puget Sound Energy)
9:30 a.m. — 9:45 a.m.
Networking Break
9:45 a.m. — 11:15 a.m.
Telemedicine Panel
Brittany Busse (WorkCare, Inc.)
Sheri Sundstrom (Hoffman Construction)
Stephen Dawkins, MD (Caduceus USA)
11:15 a.m. — 12:15 p.m.
Chat with the Experts
Table discussions facilitated by morning presenters

12:15 p.m. — 1:15 p.m.
Networking Lunch
1:15 p.m. — 2:15 p.m.
Communicating with Medical Providers
Robyn Weiss (Rehab Without Walls)
2:15 p.m. — 2:30 p.m.
Networking Break
2:30 p.m. — 3:30 p.m.
Insights for Intercultural Communication and Worker Recovery
Jon Manthos (Bock Consulting)
Maricela Vela (Bock Consulting)
Alma Alfaro (Bock Consulting)
Javier Ruiz Gomez (Department of Labor & Industries)
3:30 p.m. — 4:30 p.m.
Chat with the Experts
Table discussions facilitated by afternoon presenters

Platinum Sponsor
(as of 11/20/19)

---
Hotel Information:
DoubleTree Suites by Hilton Southcenter
16500 Southcenter Parkway
Seattle, Washington 98188
Directions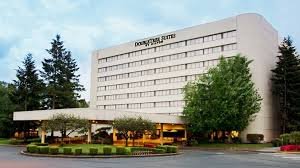 ---
Continuing Education Credits:
WSIA will award 7 CEC units for the Washington Workers' Compensation Professional (WWCP) requirements. The following additional credentials will be applied for and noted when awarded:
L&I CEU - Applied for 7 Claims Management Credits

CRC - Applied for 7 Credits
SHRM recertification credits - Approved for 7 Credits


---
Pricing:
WSIA Members - $225, full breakfast and lunch included
Additional members from same organization - $150 each
Non-members - $350 (Interested in becoming a WSIA member? Click here for more info!)

---
Cancellation Information:
A cancellation fee of $75 will be charged for cancellations received by January 3, 2020.  This is to offset the cost of room rental, reserved meals, and conference material production. No credit will be given for cancellations made after January 3, 2020.