Two full days of instruction and practice!
Monday, June 10, 2019 – 8:30am to 4:30pm
Tuesday, June 11, 2019 – 8:30am to 3:30pm
WSIA Office, Olympia Washington (more location information below)

THIS COURSE IS FOR EMPLOYEES OF WSIA MEMBER ORGANIZATIONS ONLY!

---
What's Covered by the Course?
Day 1 will delve deeply into specific calculation of Time Loss, Loss of Earning Power, and Permanent Partial Disability. Day 2 will cover key parts of the law, rules and department policy and will introduce wage calculation. 
Certification Testing Process
During the Department's live test, each tester has a computer terminal with links to references such as the RCW, the WAC, and the Department's Claims Adjudication Guidelines.  We suggest you familiarize yourself with these on-line resources prior to class.
Testers will be provided with the current SIF-5A form to use as a guide during testing.

Certification Course Changed to Mirror Testing
We have made some changes in our course to mirror the way the Department is now testing. During class, attendees will access key references via online links. We will provide hard copies of the calculation forms (including the new SIF-5A form).
All attendees will need to bring a laptop to class. 
Instructors
Instructors for Day One of the class (June 10th– Calculations) will be Lesley Hull of Penser NA.
Instructor for Day Two of the class (June 11th– Law & Calculation) will be Chris Fowler of Eberle Vivian.

Homework
Students will be required to complete some calculation homework assignments and will be provided with helpful pre-reading and tips prior to the class.  The homework will be emailed to you prior to class with instructions regarding faxing/scanning your answers to the WSIA office. This will allow the instructor time to review the homework in advance of class.
Homework is due by 9:00am on June 6th.
If you register after the homework and practice problems are emailed, you will receive them with your registration confirmation, upon registration.
Those registered to take the Claims Administrator Exam on June 12th will have first priority to take this course!
Other specifics will be provided with confirmation of registration to be emailed to all registrants prior to class.
---
Location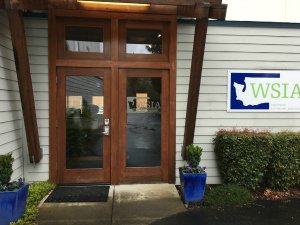 WSIA Office
828 7th Avenue Southeast
Olympia, Washington 98501
(360) 754-6416
Directions
Limited parking is available in the WSIA lot, with abundant 9-hour metered (quarters and app only) parking on the adjacent streets.

---
Pricing
WSIA Members - $425

Lunch included both days
---
Cancellation Information
A cancellation fee of $75 will be charged for cancellations received by June 3, 2019. This is to offset the cost of the room rental, reserved meals, and conference material production.
No credit will be given for cancellations made after June 3, 2019.
---