Presumption Laws and Hard Choices
---
May 26, 2017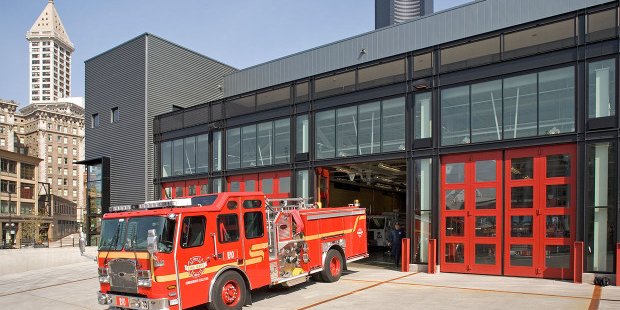 A legislative phenomenon sweeping across the country right now involves states considering adopting, or strengthening, laws presuming that certain conditions when experienced by first responders are occupational diseases, to be covered under workers' compensation.
At WSIA's Annual Conference this May, attorney Lonnie Ladenburg from Eims Graham gave a comprehensive presentation on the development and recent history of Washington's presumption of occupational disease for firefighters, as well as recent legislative efforts here and in other states to expand existing presumptions to cover more personnel, including police and fire investigators, as well as more conditions.
As Ladenburg pointed out, much of this legislative activity here and around the country is at the urging of the international firefighters' union, IAFF, local unions, and allied legislators. By 2013, 28 states had introduced legislation to add or strengthen such presumptions, and by 2015, 33 states had some form of occupational disease presumption on the books.
Washington's law, meanwhile, has been on the books since 1987, applying to firefighters with respect to an enumerated list of cancers and infections. But in recent legislative sessions, bills have been introduced to expand this presumption to more employees and more conditions.
For example, during the 2017 legislative session, there were two prominent bills considered, HB 1655 and SB 5477, that would have made significant expansions of occupational disease presumption in Washington. HB 1655 would have allowed stress-based occupational disease claims by police and fire personnel, and would have presumed that Post Traumatic Stress Disorder is an occupational disease. SB 5477 would have expanded the current list of occupational diseases by adding more cancers and infections as well as extending presumptions to emergency medical technicians, fire investigators, and police officers.
Although neither bill has survived the legislative session this year, experience suggests the proposals will be back next year and beyond in similar fashion.   
What do these presumptions mean for our municipal employers of police and fire personnel when adopted? Often it can be a bet-the-fire-department proposition for local governments.
Joan Collier from the Workers' Compensation Institute has described some of the consequences of the passage of a similar law in 2011 in Pennsylvania. Expanding the presumption to any cancer and increasing benefits, Collier describes the predictable consequence of a huge uptick in claims, and insurers seeking a do-over at the Legislature.
Because the presumption in Pennsylvania was expanded to volunteer firefighters, Collier noted some insurance companies started addressing the issue by dropping workers' compensation coverage for volunteers entirely.   
This tendency hits closer to home as well. Faced with occupational disease costs outstripping public budgets, our local governments have to weigh the cost of providing workers' compensation coverage directly through self-insurance versus developing arrangements under the State Fund.
The City of Kent, which no longer has its own fire department, is an example of a local government having to find an alternative form of coverage for its firefighters.  Kent is now covered by the Puget Sound Regional Fire Authority.
The regional fire authority was formed by voters in 2010, "including instituting a fire benefit change."
Leading up to the changeover, Kent's audited financials for 2008 and 2009 showed increasing amounts for workers' compensation coverage:
The City became self-insured for worker's compensation in 1981.  Contributions from the City operating funds at the State rate have substantially exceeded expenses.  The City authorized an actuarial study in 1999 to determine the trust's actuarial soundness and the impact on future rates.  The latest study was made by Price Waterhouse Coopers LLP as of December 31, 2007.  The study projected loss payments for calendar year 2009 at $1,063,000.  At December 31, 2009, incurred but not reported and claims payable were estimated at $1,693,251.  At December 31, 2009 fund equity was $264,371. A contingency reserve of $213,785 was set up for a worker's compensation claim.  The City carries coverage for losses exceeding $200,000 per occurrence with a private carrier to a maximum indemnity of $1,000,000 per occurrence or $2,000,000 for period of coverage.
One might wonder what contributed to the City of Kent changing its workers' compensation coverage for firefighters. Undoubtedly having a bearing on the cost of the program was the acceptance of two high profile cancer-related deaths as work-related, one leading up to and one during the conversion.
Regardless of whether these tragic deaths were work-related or not there are higher costs associated with long-term cancers on either the workers' compensation or benefits side of the equation.
The difference then between how injuries are covered relates to the additional costs public entities must pay for work-related injuries. The State of Washington has a policy which the City of Kent must follow that allows LOEFF 2 members to keep most of their regular salary while recovering from a duty-related injury for six months. The City of Kent is generous in that during that six-month period, there is no requirement to use sick-leave. After this six-month period, the employee would be able to receive time-loss benefits supplemented by sick-leave. The city's current collective bargaining agreement with police officers contains a provision typical of this policy.
Since public safety is a critical core service of local government, it becomes an issue of cost and how that cost is best allocated. When the City of Kent decided it could no longer continue to cover its firefighters through self-insurance, a fire district was created. This district which operates within the state-fund for Labor & Industries continues to provide fire service coverage, but the cost for workers' compensation and benefits become socialized by all the citizens of the district.