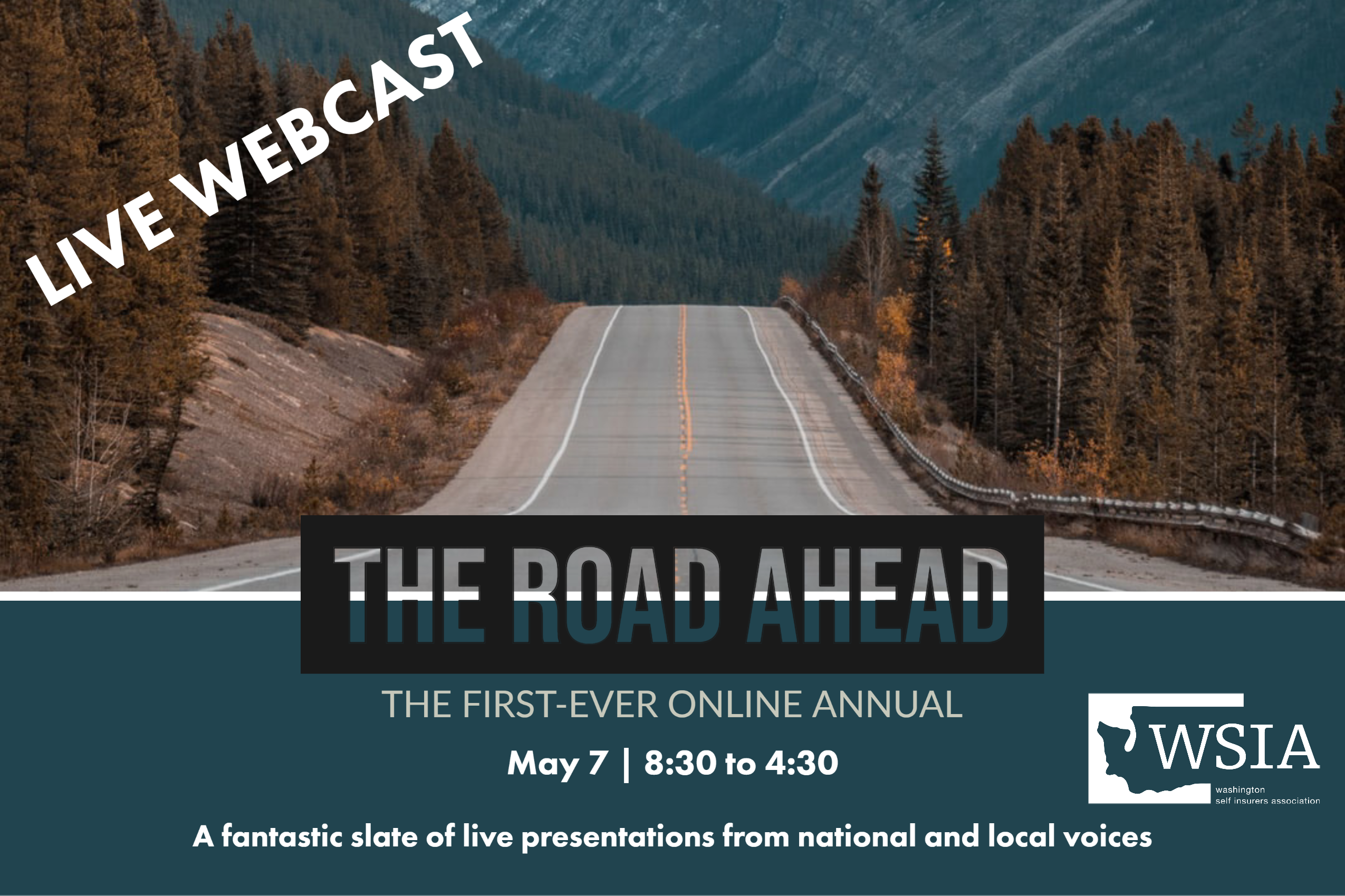 Agenda
May 7th, 2020, 8:30 a.m. to 4:30 p.m.; 30 minute break at noon 
Login details and presentation materials will be provided to registrants in advance
8:30 - Joel Sacks, The Latest L&I Info
Joel Sacks, Director of the Washington State Department of Labor & Industries, will share news and updates on where things stand as of early May in the state's workers' compensation system, taking into account the impacts of COVID-19, economic uncertainty, and more.
9:00 - Robert 'Buz' Minor, Esq., Workers' Compensation Issues at a National Level
Buz Minor, retired partner with Ohio's Vorys, Sater, Seymour and Pease LLP, former Executive Secretary of the Ohio Self-Insurers Association and incoming Executive Director of the National Council of Self-Insurers will share what we might learn in Washington from national trends impacting the industry right now.
10:00 - Max Koonce, Esq., Claims Environment in 2020, Pandemic and All!
Max Koonce, Chief of Claims for Sedgwick's nationwide casualty practice, will provide an updated assessment of the key issues impacting claims management today, with an eye toward the particular impacts of COVID-19.
11:00 - Bob Wilson, From Bob's Cluttered Desk
Industry thought leader and WSIA crowd favorite Bob Wilson of WorkersCompensation.com will provide his take on where things stand as the workers' compensation industry confronts the many challenges and opportunities now before it.   
12:30 - Kimberly George & Mark Walls, Out Front Ideas Live with Kimberly & Mark
Kimberly George, Senior Vice President for Corporate Development, M&A, and Healthcare for Sedgwick, and Mark Walls, Vice President for Communications and Strategic Analysis for Safety National, will share an hour of timely industry insights based on their popular platform, "Out Front Ideas," the duo's online forum designed to explore critical workers' comp and healthcare related issues.
1:30 - Mary Daly, FCAS, MAAA, Leveraging Risk Management Data to Drive Insights and Savings
Consulting Actuary Mary Daly, a principal in Oliver Wyman's Los Angeles office, will help us shape the future by showing how claims managers, TPAs, risk managers, and others can take advantage of all the data we currently have at our fingertips and put it to use beyond the status quo. 
2:30 - Rose Gundersen, Latest on Washington's Paid Family & Medical Leave & COVID-19 Benefit Programs
Rose Gundersen, Vice President of Operations and Retail Services for the Washington Retail Association will provide an update on 2020 legislative and administrative changes to the Washington Family & Medical Leave Insurance Program, as well as the related COVID-19 benefit programs now in place. 
3:30 - John F. Roach, The Most Important Qualities for the 21st Century Job Market
After - or still possibly amidst - the greatest labor market interruption in generations, John Roach, CEO and cofounder of WholeStory, a hiring app allowing job seekers to provide employers with a holistic profile emphasizing soft skills, will discuss the top skills restructuring the 21st century job market and how positive psychology will shape the future of work. John is also Director of Cybersecurity at a large federal contractor in Richland, WA and former VP of Information Technology at Permobil, a global medical device manufacturer.
- Bonus Content - Recorded and Provided for On Demand Viewing by Conference Participants
Kris Tefft & Jim Nylander, What's Next
WSIA Executive Director Kris Tefft and L&I Self-Insurance Program Manager Jim Nylander will take stock of the last couple months, including regulatory changes proposed at the Department, the Department's claims management responses to COVID-19, a fast-paced legislative session packed with significant changes, and will discuss where it all goes from here. 
An Incredible Thank You to Our Sponsors: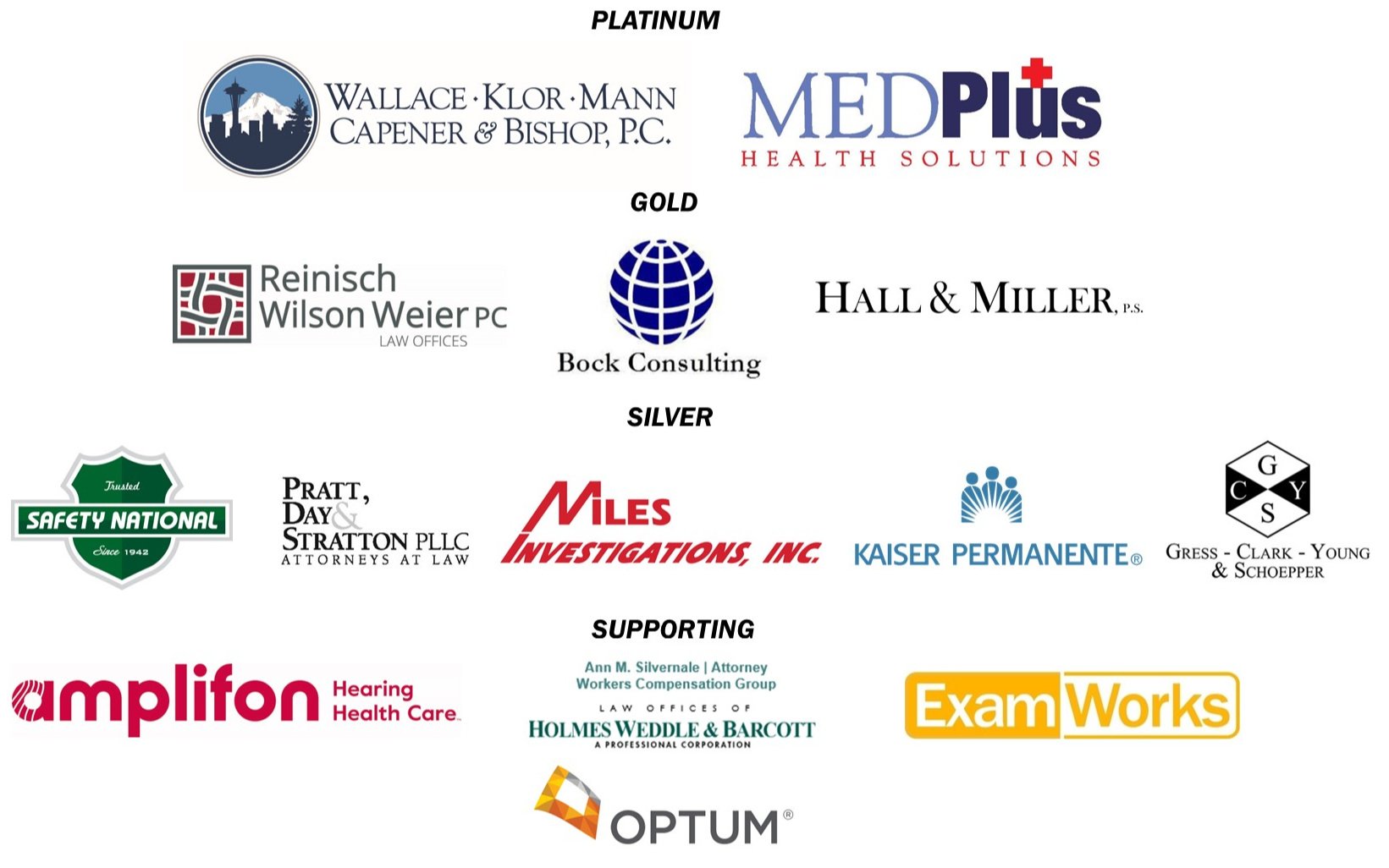 ---
Continuing Education Credits:
WSIA will award 8.5 CEU units for the Washington Workers' Compensation Professional (WWCP) requirements. The following additional credentials will be applied for and noted when awarded:
L&I CEU - Applied for 8.5 Credits

CRC - Approved for 8.5 credits

CDMS- Approved for 7.5 Credits
CCMC - Approved for 7.5 Credits

WSBA CLE - Approved for 8.5 Credits

SHRM recertification credits - Approved for 7.5 Credits


Depending on how we are able to handle the 8th hour of pre-recorded content we will attempt to offer up to an hour of credit for this segment as well
---
Pricing:
WSIA Members - $199
Additional members from same organization - $150 each
Non-members - $349 (Interested in becoming a WSIA member? Click here for more info!)