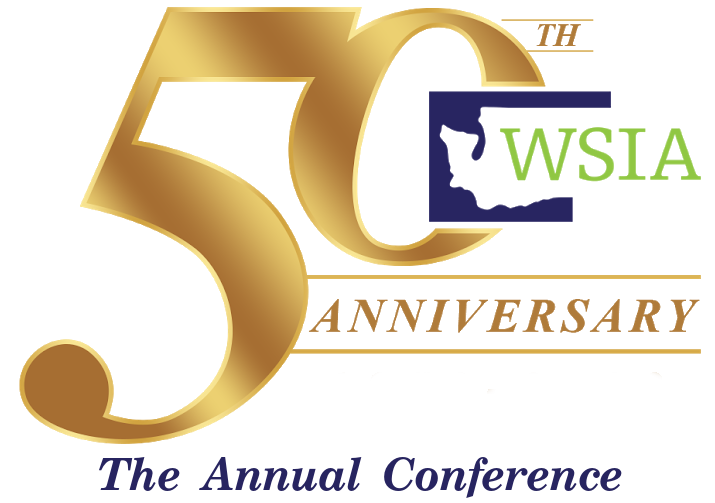 Live Online
Wednesday June 9, 2021 9:00am - 4:00pm
Thursday June 10, 2021 8:45am - 12:00pm


This conference kicks off WSIA's golden anniversary year, where we'll celebrate 50 years of community, learning, and impact. 
While we still have to gather virtually - hopefully just this last time - we've arranged a day and a half of cutting-edge content for professionals across all sectors of the workers' comp and safety industry. 
We'll spend some time celebrating how far we've come. But our focus is squarely on the future.
Planned Sessions Include:
New Approaches to Worker Advocacy & Claims Management
Led by Susan Mellody, Manager, WC Tech Solutions, WC Claims Leadership, Helmsman Management Services
At the core of every claim, there's a person. Advocating for injured workers helps employees heal properly and get back to their lives and jobs. It helps employers keep business humming as they control workers compensation costs. Learn how incorporating principles of empathy and advocacy promotes better outcomes for everyone in the workers' comp system. 
The Latest Thinking on Comorbidities and Claims
Led by Michael Seise, Rph, PharmD, MBA, Optum
We all know the potential impact that comorbidities such as mental health disorders, high blood pressure, respiratory diseases, diabetes, and metabolic disease can have on the outcomes of injured persons and their claims. Over a year into the COVID-19 pandemic, nearly all indicators are that such comorbidities are not only on the rise but are going significantly undertreated. Clinical pharmacist liaison Michael Seise of Optum will share the latest thinking on the impact of these conditions on claims.    
Prevention 2021 - How do we prevent typical injuries in the new world of work?
Led by Ric Burd, Strategic Consulting Services, Inc.
As the "workplace" has been redefined and reimagined over the past year, employer efforts to accommodate and protect workers has been an elusive target. This session will consider the new frontier of employer accommodation to injury-preventing ergonomics to safety policies, and developing trends for the future.

Course of Employment when Employment Happens Anywhere
Led by Shawna Fruin, Reinisch Wilson Weier, PC.
The pandemic has changed the place and nature of employment for a lot of workers. Has the concept of "course of employment" kept up? Learn about how to analyze employer responsibilities in the work-from-home world. 

The 7 Habits of Highly Effective Claims Managers
Led by Krishna Balasubramani, SBH Legal

You've heard of the 7 Habits of Highly Effective People. What are the 7 Habits of Highly Effective Claims Managers, and how can you cultivate them? 

50 Lifesavers:  Proven Tips for Awesome Outcomes
Led by Kevin Kincade, Helmsman Eberle Vivian

At our 40th annual conference, attendees learned 40 strategies to control costs and improve worker outcomes. We're revisiting the format this year to include what we've learned in the last decade, and add ten more!

Thursday June 10, 2021
Morning with the Regulators
State of the System with Director Joel Sacks

Our annual visit with Department of Labor & Industries Director Joel Sacks, now in his eighth year on the job. Joel will share an update on the Department's priority initiatives and take your questions.
Panel Discussion with BIIA Members
Linda Williams, Jack Eng, Isabel Cole
Engage with the members of the Board of Industrial Insurance Appeals. How has the pandemic impacted appeals, and what are the plans going forward? What do you need to know to understand the current process when claims go up on appeal? Your Q&A is welcome. 
Panel Discussion with L&I SI Department

If a new SI Program Manager has been named by the conference, we'll invite them for a virtual meet and greet with the community, as well as a panel discussion with top section chiefs covering COVID-19 claims, the latest rulemaking, certification testing, TPA licensure, financial rules for new and continuing self-insurers, implementation of new legislation, and plans for the future of the program. 
Bonus Content - Recorded and Provided for On Demand Viewing by Conference Participants
Kris Tefft, Legislative Update

Kris Tefft, WSIA's Executive Director and lead lobbyist, provides a comprehensive wrap-up of the 2021 legislative "virtual session," with an exploration of the political dynamics impacting the risk management and workers' compensation industries and analysis of the bills that become law this year and the ongoing legislative proposals that most impact your programs. (30 minutes) 
Special Features:
50 Years of Self-Insurance in Washington | Physical Therapist-Led Stretch Breaks | Online Visits from our Sponsors 
---
Continuing Education Credits:
WSIA will award 9 CEU units for the Washington Workers' Compensation Professional (WWCP) requirements. The following additional credentials will be applied for and noted when awarded:
L&I CEU - Applied for 9 Credits

CRC - Applied for 9 credits

CDMS- Applied for 9 Credits
CCMC - Applied for 9 Credits

WSBA CLE - Applied for 9 Credits

SHRM recertification credits - Approved for 9 Credits


---
Pricing:
WSIA Members - $249
Additional members from same organization - $199 each
Non-members - $399 (Interested in becoming a WSIA member? Click here for more info!)