Tuesday, November 6, 2018 – 7:30am to 5:00pm
Wednesday, November 7, 2018 – 7:30am to 5:00pm
WSIA Office, Olympia Washington (info below)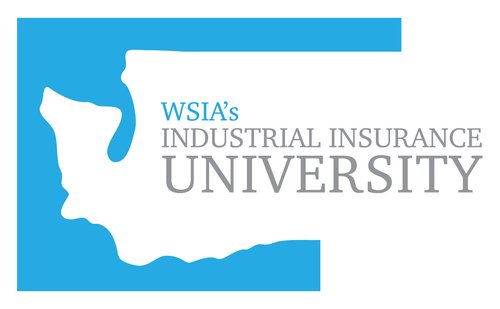 The first step in our IIU's comprehensive, goal-oriented workers' compensation curriculum, Introduction to Claims Management is perfect for those individuals newer to claims or newer to Washington's unique system. In this course, we provide a brief history of workers' compensation, and provide instruction on basic claims handling in the topic areas listed below.  Attendees will build a claim file from handouts provided in each of the various topics covered, which will allow them to learn how claims develop and how various forms and letters are properly used in the management of a claim. Attendees will also receive a link to electronic copies of reference materials they can refer to in the future.

Attendees take both a pre and post-class quiz to measure the effectiveness of the instruction provided.

History of Washington Workers' Compensation
Investigation of accidents and claims
Compensability of injuries and disease claims
Apportionment of injuries
Communication with injured workers and other system participants
Management of the medical dimensions of the injury claim
Management of the disability aspects of the injury claim, including leaves of absence and return to work
Reserving the cost of the claim
Closing the claim
Permanent Partial Disability compensation
Medical Provider Network basics
Intro to litigation and litigation management
Integrating investigation, medical, disability, and litigation management
Please note that time loss, LEP, and PPD calculations are not components of these introductory courses, but rather are covered in-depth in their own training workshop.
Instructors
Julie Busch, MS, CDMS
Strategic Consulting Services
Julie Busch, a co-owner of SCS, has over 20 years of experience providing vocational assessment, rehabilitation planning, job analysis and expert testimony.
Ms. Busch provides vocational rehabilitation services to workers covered by Washington State Department of Labor and Industries as well as federal worker's compensation systems such as the Longshore and Harbor Worker's Compensation Act. She also provides expert testimony in both areas.
Kevin Kincade
Eberle Vivian


Kevin Kincade has over 20 years' experience in workers' compensation, starting as an adjuster at Johnson & Culberson. Following 13 years in management positions at Gallagher Bassett and Berkley Risk, Mr. Kincade moved to Eberle Vivian in 2013, continuing as an account manager his work assisting client employers to manage their workers' compensation programs.

Krishna Balasubramani, Esq., Sather Byerly & Holloway
Krishna joined Sather, Byerly & Holloway, LLP in 1996 and became a partner in 2000. Prior to joining the firm, Krishna also worked at SAFECO Insurance and Stoel Rives, LLP. Krishna is admitted to practice in Oregon and Washington. He handles litigation in state and federal courts for employers and insurers in Oregon and Washington and related workers' compensation and employment related matters. Krishna is admitted to practice in Oregon and Washington.

Click to choose your registration option
**Live in person is currently full, registration for webcast is still available**

---
Continuing Education Credits
WSIA will award 15 credits (3.75 statutory) for the Washington Workers' Compensation Professional (WWCP) designation and 15 recertification credits for SHRM human resource certifications.
Labor & Industries CEU  - Approved for 15.25 credits (14 claims management, .25 general and 1 legal)

---
Pricing
WSIA Members - $425
Group discount: Additional members from same organization - $350 each
Non-members - $700
Full breakfast and lunch included both days for in-person attendees
Cancellations policy: No refunds after October 30, 2018